Elizabeth Smart's passionate fictional account of her intense love-affair with the poet George Barker, By Grand Central Station I Sat Down And Wept, was described by Angela Carter as 'a masterpiece … like Madame Bovary blasted by lightning'.
Originally published in 1945, this remarkable book is now widely identified as a classic work of poetic prose which, seven decades later, has retained all of its searing poignancy, beauty and power of impact.
One day, while browsing in a London bookshop, Elizabeth Smart chanced upon a slim volume of poetry by George Barker – and fell passionately in love with him through the printed word. Eventually they communicated directly and, as a result of Barker's impecunious circumstances, Elizabeth Smart flew both him and his wife from Japan, where he was teaching, to join her in the United States. Thus began one of the most extraordinary, intense and ultimately tragic love affairs of our time. They never married but Elizabeth bore George Barker four children and their relationship provided the impassioned inspiration for one of the most moving and immediate chronicles of a love affair ever written.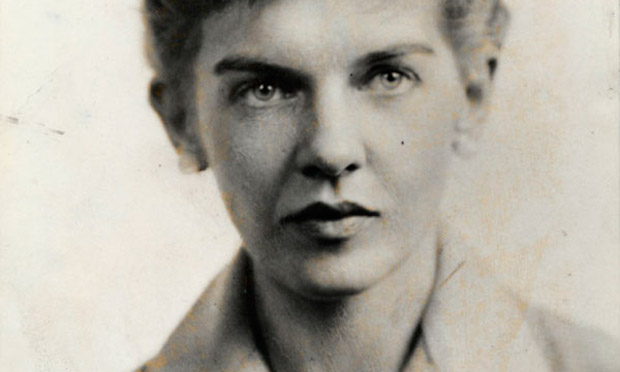 We have reissued the book, with a new introduction from Yann Martel, author of Life of Pi, and to celebrate publication, we dug out this archive podcast from 1982, in which Elizabeth is interviewed by Peter Gzowski for Morningside Radio. She discusses her affair with George Baker, her mother's extreme reaction to the book, on being revered as a feminist figurehead, and discovering and identifying with then-contemporary Canadian Literature.
'I just sort of go on to do the next thing,' says Elizabeth Smart on her approach to what seems to be an extraordinary life.
Enjoy.
In reference to the story that her mother went to the local bookstore on the Canadian release of By Grand Central… and bought all the copies only to burn them when she returned home: 
'A very curious thing, because, you know, it's not… it's hardly an obscene book or anything like that but she thought that she cut a… not a dashing figure. If you've read it you'll realise there's hardly anything about mothers in it at all.'
On her early years:
'Well they were marvellous really, we just had a lovely time. Some people thought we didn't have enough sense of real life and we didn't earn our livings but we just had… we only knew people we liked to know, that were amusing. Lots of parties and things like that.'
'I don't think there was any rebellion. I don't think falling in love is some sort of rebellion, that's something that just happens and you can't really stop it.'
'First I thought it was just going to be an intellectual affair but then the inevitable happened.'
'Well as a matter of fact, to tell you absolute and honest truth, I wrote some of it before I met him… I wrote that first chapter [about waiting for George in Grand Central station] last.'
'Perhaps one tends to write more when one's unhappy. When one's happy one tends to be dancing around and amusing oneself.'
'I just think I'm an ordinary person that just does the next thing that you have to do. I can't really remember the past, I can hardly remember the family I've just left behind in England. Perhaps I shouldn't say that but they won't be listening.'
'I always say when I hear the word politics, I reach for my earmuffs.'
Calls herself at one point: 'little Betty from Ottawa'
'My mother's had rather a raw deal from me I think because of these things she did, rather high-handed – she also kept George out of coming into Canada the second time. Of course I do [forgive her], you know she was really lovely and she became much much more liberal-minded in her seventies. She would say things like 'Illegitimate is a word we don't understand,' and so on.'
'My mother was the noisy one and he would just sort of smile and rock himself back and forth and listen to anything you had to say. Always reasonable and seeing both sides of any question…'
'I read a couple of books every day nearly.'
'It's very nice that it [the novel] keeps resurrecting itself.'
Thanks to Joshua Webb for his help with this article.