We are absolutely delighted to announce that Bring Up The Bodies has won the 2012 Man Booker Prize, making Hilary Mantel the first woman and the first British author to win it twice.
Sir Peter Stothard, chair of the judges and editor of the Times Literary Supplement, made the announcement last night at London's Guildhall, and said that this year, the award stood 'for vitality, for fierce intelligence, and most of all for prose'.
Upon receiving the prize, Mantel joked: 'you wait 20 years for a Booker prize and then two come along at once'. She becomes only the third author, after the South African JM Coetzee and Australian Peter Carey, to win this prestigious accolade twice.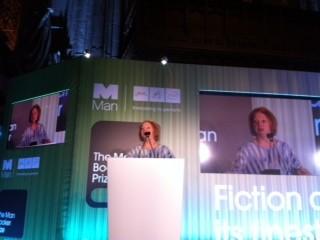 Stothard called Mantel the 'greatest English prose writer eligible for the prize', and said she had 'rewritten the book on writing historical fiction'.
'This is a bloody story about the death of Anne Boleyn, but Hilary Mantel is a writer who thinks through the blood. She uses her power of prose to create moral ambiguity and the real uncertainty of political life'
'It is well-trodden territory with an inevitable outcome, and yet she is able to bring it to life as though for the first time'.
'We are very proud to be reading English at the time she is writing. I don't think I've read any English novelist in recent years who has such complete control over the way she uses prose to do what she wants to do, like a singer or a pianist'.
Victoria Barnsley, CEO of HarperCollins and founder of 4th Estate said: 'I actually think it was quite a brave choice for the judges, when people might have thought someone shouldn't win it twice. But the best book won, and the best writer won. Hilary must be seen now as our most important British novelist'.
Mantel first won the prize in 2009 for the opening installment of her Thomas Cromwell trilogy, Wolf Hall. James Naughtie wrote then that 'Hilary Mantel has given us a thoroughly modern novel set in the 16th century. Wolf Hall has a vast narrative sweep that gleams on every page with luminous and mesmerising detail'.
Mantel said of Wolf Hall: 'it was a book in which I felt instantly at home. I felt I'd been waiting all my writing life to get there'.
In Bring Up The Bodies, Mantel explores one of the most mystifying and frightening episodes in English history: the destruction of Anne Boleyn. The novel is an audacious vision of Tudor England that forces the reader to examine a past we thought we knew, while shedding new light on how we see our world today.
She is currently working on the final book in the trilogy, one that will round off a stunning foray into the life of Thomas Cromwell. Mantel said in a recent New Statesman feature that her writing self is 'much tougher than my everyday, operating self, much less compromising and much less afraid. I think I started off fearless on the page'.
The Man Booker press release fittingly reads: 'Perhaps the real object of envy is not the winner – she thoroughly deserves her triumph – but the readers who have yet to open Bring Up The Bodies. They have just won a prize too'
Congratulations to Hilary Mantel, and here's to the next one – can she make it a hat-trick?